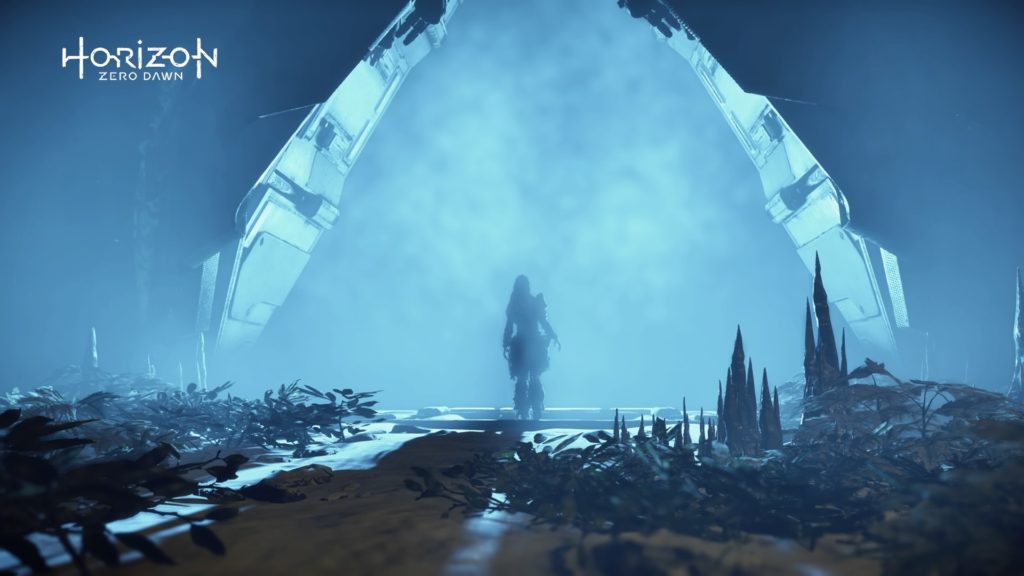 First of all, if you haven't played the latest open world RPG from Guerrilla Games*, Horizon Zero Dawn, what are you doing with your life? Why are you even reading this blog? Turn your computer off and GO BUY IT. No, I'm not kidding, it's that good. If you haven't heard of it, you can check it out here.
FIRST GLANCE
I first played the game at the PAX West gaming expo in Seattle last September. Even back then, I remember being intrigued by the fierce female protagonist and lush, post-apocalyptic world set against the ruins of a technologically advanced civilization. The demo was extremely popular. Time slots for a chance to get a sneak peek before the official game release (February 2017) were quickly snatched up—and I was lucky to get a chance to play.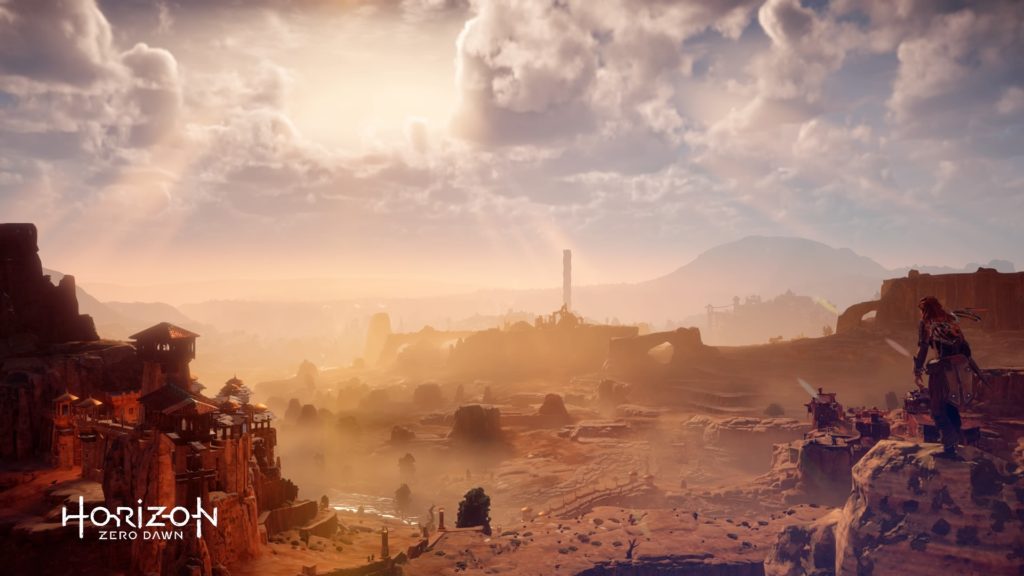 BECOMING THE ULTIMATE HUNTER
Why was this game so good? Besides the flawless combat system, beautiful visuals and compelling narrative, Horizon Zero Dawn is one of those games that pins you down at the very beginning and holds onto your emotions, not to mention your curiosity, until the very end, rendering you as docile as an overridden Strider.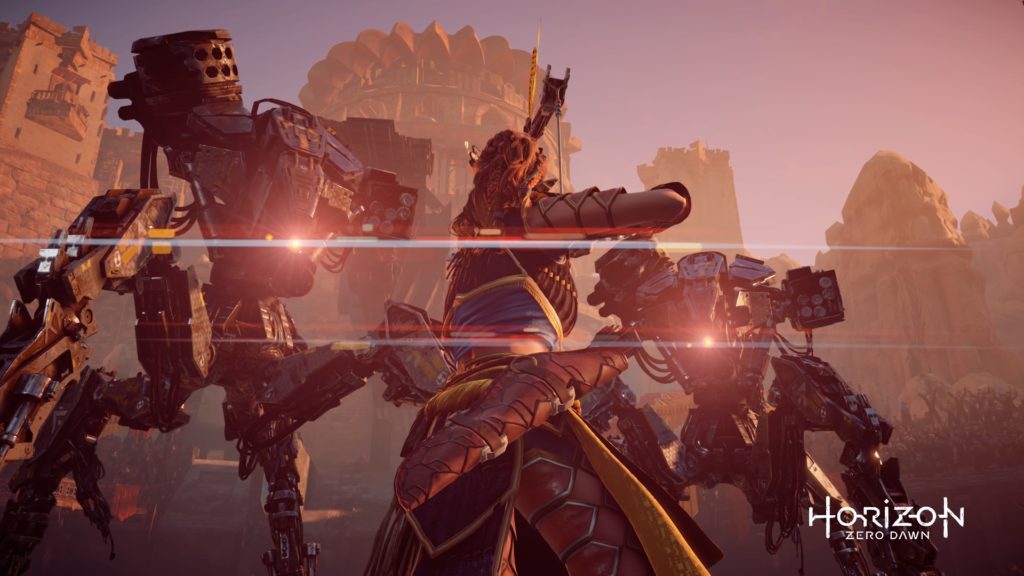 You know it's a good game when you want to play it all over again immediately after "The End" flashes across the screen. I spent hours soaking up the world and exhausting every single conversation option just so I could hear about as much game lore as possible. Being an open world game with enough weapons to suit many different play styles, it's impossible for any two people to have the exact same experience. The open-endedness is one of the game's strengths, in addition to all of the little details, like exploring to find every last collectible and data point. Plus, there's nothing like stealthily raiding bandit camp after bandit camp, watching Thunderjaws tear each other apart in epic robot battles, scaling snow-capped mountains (just for the view), and meeting all sorts of strange folks across the map (like that one Shaman that drinks machine oil…).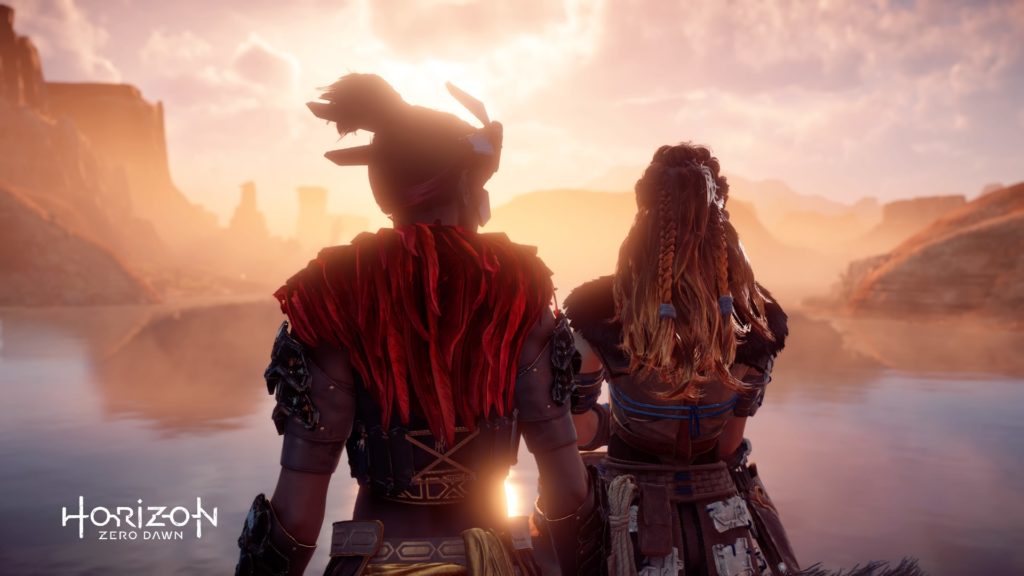 Now, after obtaining the platinum trophy (for getting every trophy in the game), I can say my initial instincts were right. Plus, the soundtrack for the game is amazing (you can find it here on Spotify), which really rounds out the entire experience. Those at Guerrilla Games really made something special, and I'm not the only one who feels this way. If you looked on Twitch.tv during the game's opening week, thousands of streamers from around the world were playing, causing cohorts of fans to gravitate around this common interest.
CAPITALIZING ON THE HYPE
Twitch.tv streamers are experts at capitalizing on the hype surrounding new game releases. Besides Horizon Zero Dawn, the game Zelda: Breath of the Wild was also recently released. If you're not familiar, Zelda is a fantasy action-adventure video game series that's created a fan base millions strong during its 25-year legacy. Viewers who watch these Twitch.tv streams are some of the games' most die-hard fans.
As an example, I was recently watching a stream of Horizon Zero Dawn while the streamer was loading Zelda: Breath of the Wild in the background onto his gaming console. When the game download finally got to 99%, the streamer switched HZD off and showed the load bar screen on his stream instead. Hundreds of live viewers sat there, enraptured, watching a load screen for about five minutes. These viewers are that into these games that they would sit and watch a screen load for five. whole. minutes.
REACHING ENTHUSIASTS
Here at Caffelli, we have the ability to tap into this user base of die-hard enthusiasts because we've built relationships with Twitch.tv streamers who interface directly with this audience. These are the type of people that are most interested in the latest games and high-end PCs. Hence, they're most likely to purchase said products. This is just one example of a specific enthusiast audience that Caffelli has access to. We know where to find super fans and brand enthusiasts across many industries, because we're enthusiasts ourselves.
LEARN MORE
If you want to learn more about how Caffelli leverages influencers to tap into your target audience, get in touch with us at info@caffelli.com. And then, if you haven't done it, please, please go buy Horizon Zero Dawn. You won't be disappointed!
Images above are screenshots of actual gameplay from Horizon Zero Dawn. *Other names and brands may be claimed as the property of others.